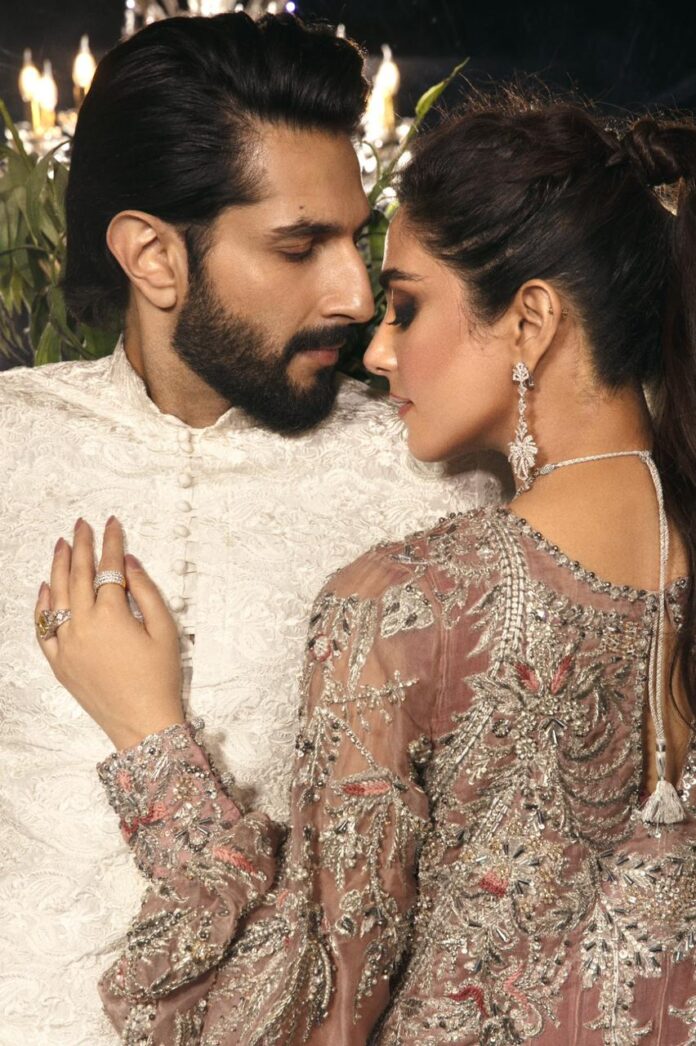 The art of couture in Pakistan knows a few purveyors and many steer clear from it on the basis of not being able to perfect the craft.
However, there are some who have not only understood its intricacies, but also have been able to make it a viable unique selling point.
One such name is Hassan Sheheryar Yasin (HSY)  who has proven his Midas touch and post Covid lockdown has re-assembled to present his latest bespoke couture collection, Khayaal.
Announced via a fashion film that brings forward the scintillating chemistry between superstars of today, Maya Ali and Bilal Ashraf, the ornate collection features ensembles that are inspired by moon-lit hues of the night where silver shadows shimmer amidst the twilight in all their glory.
Taking a step away from his signature reds, this ode to jewel tones, pastels and metallic shades is a new direction for the couturier, where he is creating the idea of a bridal couple touched by moonlight with a wide array of choice for every day of the bridal trousseau – be it the Nikkah, Mehndi, Baraat, or a Valima.
In his cuts and silhouettes for Khayal, HSY is opulent in his minimalistic thought.
Curated according to the clientele's plethora of needs, one has a choice to find anything between long, straight shirts with nuanced slits to lehenga cholis and front open chic Bolero jackets — all done up in the perfect amalgamation of HSY contemporary signature niches and traditional heritage-inspired work.
The cuts and silhouettes just don't end there, however. For the most discerning of shoppers, HSY has also opened the gateway to even more innovative options, where gota-work gharara pants and one piece gowns work as statement outfits for those looking to breakaway from the mundane.
In many ways, Khayaal does come through as more than just another collection. While there is heart and soul in this showcase like most of HSY's craft, there's something more.
The ethos is larger than just a couture capsule. It plays out as an homage to sustenance post the COVID era, where fashion is seeing a brand new renaissance — a rebirth of Pakistani craft, where heritage, heirloom and the ornate are seeing a fresh entry into the realm of the contemporary.
Khayaal is more than just about the cuts, silhouettes and colour palettes – it is the HSY World of Couture for the contemporary bride who wants the best for her big day.
This time, each individual piece of intricate niche has shined separately — be it embellishment or embroidery and there's tons on offer.
There's of course, the signature HSY traditional craft which is done up in oxidised golds and silver, gota, mukaish and pitta work which have become the backbone of heritage craftwork, but also French knots, zanjeeri, 3D hand-made flowers, box pleats and stone work as well, which perfectly creates a confluence between contemporary innovations and age-old techniques.
It is a true ode to the treasure trove of fashion history the country possesses.
Whether one considers this HSY's grand return to the world of couture post the lockdown the world experience for the last year and a half or his re-birth into a post-COVID world that is looking for designers such as himself to lead the new path of fashion in Pakistan, Khayaal is undoubtedly where couture label HSY, with a spanking new atelier, has been able to come forth as a bastion of couture in the new era.